Jakarta, Indonesia–(Newsfile Corp. – May 21, 2022) – Organised by Everscale, the Renaissance Bali Uluwatu was the stage for EVERPOINT, the largest international crypto conference in Indonesia since the start of the COVID-19 pandemic. The conference was held in honor of the 2nd anniversary of the Everscale blockchain and community, as well as the network's expansion into the Asian market. Panel speakers and guests at EVERPOINT covered some of the most pressing issues in the industry, including the future of blockchain and cryptocurrency in Indonesia, the future of DAOs and the potential behind CBDCs and new-wave stablecoins.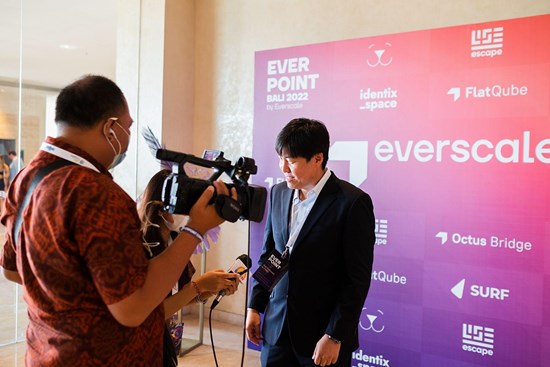 State TV Channel Bali TV covering the conference
To view an enhanced version of this graphic, please visit:
https://orders.newsfilecorp.com/files/8625/124921_b5f23758f461ea8f_001full.jpg
The event marked a significant step for Bali and Indonesia as it was the largest international crypto event to take place there since the start of Covid. Over these past two years, Indonesia has made great progress in the crypto sphere, developing a proper environment and infrastructure as well as legal solutions for blockchain projects. The country has become an attractive location for tech developers and cryptocurrency entrepreneurs from all over the world. As it stands, there are already 18 crypto exchanges operating officially in Indonesia and a number of crypto investment funds are on their way. Everscale, an infinitely scalable network with an ecosystem filled with remarkable platforms, including a cross-chain Octus Bridge, native DEX (decentralized exchange) FlatQube, wallets and more, is leading the charge and chose to host its anniversary event in Bali, as it enters the Asian market.
The EVERPOINT conference was attended by industry leaders from around the world, with strong representation from market players in the South-East Asia region. Among the speakers were: masamune.io Founder Aditya Uozumi, x0swap.com CEO Andry Suhaili, IndoCoin Nusantara trust Ltd Founder Henri Morgan Napitupulu, coinstore.com Founder Irvan Tisnabudi, MX Global Founder Fadzli Shah Bin Anuar, Pi Union Capital CEO Kevin R Smith, ZBX.com exchange CEO David Pulis, WARP Capital Co-founder Sergey Dzhurinsky, Qatar Insurance Group Senior Vice President Zehan Teoh, Moonstruck CTO Pavle Batuta, Algalon Capital Investment Director Alexey Antonov, Xangle CBDO Bo (Young Sik) KIM, Minergate Founder Vladimir Maslyakov, Cointelegraph Editor-in-Chief Kristina Lucrezia Corner, and Vasiliy Smekalov of ever.fund GP. ​​
The future of blockchain and cryptocurrency in Indonesia has been a popular topic of discussion of late given recent economic developments and a fair amount of time was spent covering it at the conference. One of the major issues facing crypto around the world is the changing regulatory frameworks of different countries. On that front, Indonesia has begun to establish itself as something of a crypto haven.
The Future of Blockchain in India and Indonesia…