New Delhi, India–(Newsfile Corp. – August 6, 2022) – International Fintech, Crypto & Blockchain Week (IFCBW 2022) – one of the largest industry events ever, will be held in Greater Noida & New Delhi, India from 14 to 20 September 2022 . IFCBW 2022 brings founders, companies, startups, investors and industry experts together to redefine & discover the future of web3, blockchain, fintech and digital assets. With the magnitude of 25,000+ attendees, 80+ exhibitors, 100+ sponsors, 300+ participating companies, 120+ investors, 40 Startups and 100+ speakers it aims to become one of the biggest industry events in the world.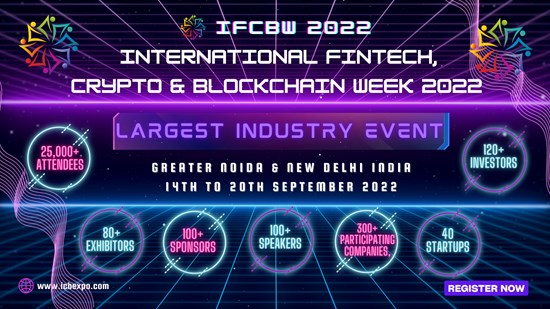 Figure 1 Aim to Bring Blockchain Adoption in India, International Fintech, Crypto & Blockchain Week All Set to be held in Sept 2022
To view an enhanced version of Figure 1, please visit:
https://images.newsfilecorp.com/files/8861/133061_de7ed87484dd9af5_001full.jpg
IFCBW 2022 is called "The Largest Industry Event Ever" for a reason as it serves its participants multiple formats including:
Exhibition Zone- Networking, Meetings, Products & Services Showcase in an exhibition area of 150,000 sq. ft.
Conference Zone – With over 100+ Speakers, Leaders and CXO from 20+ Countries will be sharing market insights, Having Panel Discussions, Fireside Chats & Industry Discussions.
Startup Zone – Over 30+ Shortlisted Startup will be Pitching in front of 120+ Investors and Industries specialists, and will conduct Investment Roundtables.
To Participate fill up the form here: Pitching Competition Form
IFCBW Side Event – IFCB will host a VIP Welcome Party, VIP Gala Dinner, IFCB Awards Night, Cultural Immersion Tours, Official Wrap Up Party & Investors MOU Breakfast.
IFCBW believes that "Network is your Net Worth" hence as a core value proposition for the attendees, IFCBW Team designed various opportunities & concepts such as a) Networking zone for 1:1 meetings, b) Separate NFT tickets for start-ups & investors & c) Community & satellite events
IFCBW has created a dedicated zone for Startups as well as a Special Fund. This zone has 40 Exhibition Booths for Startups exclusively. All startups would be shortlisted by a pool of C Level Executives after checking the feasibility and viability of the project / service.
These 40 startups will get a chance to showcase the Startup to potential investors (100+ confirmed & would increase to 200 before the event). Also there would be a competition to judge the best three out of them. 
The entry fees for shortlisted startups is $10,000. All startups get AWS Credits for $5000 & Stripe Commission Free Credits for $20,000 after being shortlisted.
About IFCBW Expo 2022
IFCBW Expo 2022 is unique in many ways, be it from companies' perspective or from investors' perspective or from a visitor's perspective. Everyone has a chance to be a part of a historic and unique event that sets a new benchmark for the industry in respect of events. The startups / companies looking for equity or token investments shall be able to meet…