Geneva, Switzerland–(Newsfile Corp. – November 7, 2022) – Messari, the leading provider of crypto market intelligence, released two quarterly analysis reports related to the TRON ecosystem – State of TRON Q3 2022 and State of USDD Q3 2022. The two most significant highlights in the comparison of Q3 with Q2 2022 were the 480.4% increase in the number of holders of USDD and the 71% increase in the Total Value Locked of TRX. Both reports indicated positive conclusions about the stability and secure strength of USDD and the TRON network as a whole.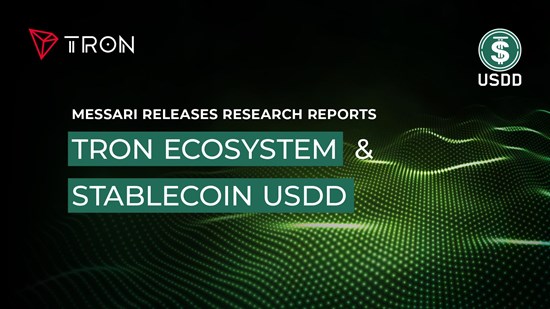 Image Source: Tron
To view an enhanced version of this graphic, please visit:
https://images.newsfilecorp.com/files/8506/143274_a01762b424f2bb17_001full.jpg
State of USDD
The USDD report marked the first time Messari provided market intelligence in a quarterly report on the over-collateralized stablecoin issued by the TRON DAO Reserve (TDR). USDD is backed by select crypto assets, including BTC, USDT, USDC, and TRX. The State of USDD report includes insights on performance, issuance, deposits, reserve balance, user adoption, transactions, price analysis, and total value locked. Readers can also get qualitative analysis on subjects such as monetary policy and the peg stability module (PSM).
Key insights on the USDD Report include:
After rapid adoption in Q2 2022, supply growth stalled in Q3 2022, increasing only 0.2% to 725 million.
However, the number of wallets holding the currency increased nearly 5X in Q3 2022.
The stablecoin remains well backed by non-native currencies with a collateral ratio of 1.9 at quarter's end.
After the UST collapse and stablecoin depegging in June 2022, USDD maintained a tight peg and launched Peg Stability Module (PSM) using USDT, USDC, TUSD, and USDJ.
It is worth noting that since USDD was launched in May 2022, the supply has grown to over 725 million with almost all of its growth occurring in the first two months. The Messari Report pointed out that there is currently over 36 billion USDT circulating on the TRON blockchain, which they commented "leaves a lot of room for growth for USDD." The Binance and Ethereum blockchains now also carry USDD. TRON Founder H.E. Justin Sun envisioned USDD offering the opportunity to access currency pegged to the US dollar for anyone and anywhere. Based on the first five months of its existence, that aspiration appears to have a solid start toward becoming reality.
Given that the TRON DAO Reserve has to deposit and stake an equivalent amount of TRX as collateral in order to mint new USDD, the Messari Report also noted that "TRX holders are likely the greatest beneficiaries of USDD adoption, given the potential reduction in circulating supply should adoption grow." A growing number of partnerships, like TRON becoming the National Blockchain of Dominica and the Huobi Global Advisory Board promising to leverage USDD in pairs with all crypto on their exchange, will likely result in greater user adoption of USDD over the coming years.
State of…